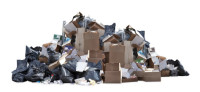 Do you need help getting rid of the garbage that accumulates at your home or business over time? Are you doing a major one-time cleanout or cleanup project? For comprehensive trash removal services you can trust in Salt Lake City, turn to Tiger Sanitation. Since 2006, we've been the local area's source for residential trash removal. We also offer dumpster rentals and other trash hauling services for commercial and industrial clients. We'll save you the time and hassle of getting rid of unwanted junk and trash on your own. We're a licensed, bonded, and insured business, and you can be sure your garbage is being disposed of properly, following all local regulations. Learn more about making Tiger Sanitation your go-to trash and junk removal company by calling now!
We're available to collect the following items:
Bagged garbage
Old appliances and furniture
Plastic and metal recycling
Bulk glass recycling
Yard debris
Construction debris
Business and industrial waste
And much more!
When it comes to trash removal, Tiger Sanitation is able to meet your specific needs. From one-time dumpster rental to ongoing trash removal services for routine rubbish, we'll help you keep your property looking its best. We offer local trash removal throughout the greater Salt Lake City area, and no job is too large or too small for us to tackle.
Weekly Trash Removal Available
One of the things that sets Tiger Sanitation apart from other junk removal companies in the region is the fact that we offer weekly residential trash removal. We'll provide the cans, and we'll be by to pick up your trash and recycling each week. If you need large junk removal during your regularly scheduled pickup time, just let us know in advance. We're prepared to take care of all of your home trash removal needs.
From construction trash removal to yard trash removal and beyond, Tiger Sanitation is the company to trust. We offer exceptional customer service, because we want to be your junk removal company of choice no matter what services you require. We also offer fast turnarounds—making same-day trash hauling services available whenever possible—as well as some of the lowest prices among junk removal companies in the region.
Call today to schedule your local trash removal! We'll be happy to give you a free cost estimate for the trash hauling service you need. With our help, you can look forward to having a cleaner home or workplace soon. 
Tiger Sanitation is able to haul away asbestos (with prior notice), but no other hazardous materials can be collected at this time. We apologize for any inconvenience.