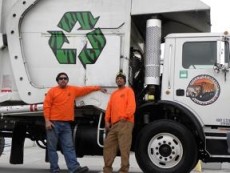 If you need help with trash removal in Salt Lake City, look no further than the trash and junk hauling specialists at Tiger Sanitation. Since 2006, we've been the local region's choice for professional garbage and junk removal services. Whether you need dumpster service as part of a major cleanout project, regular residential trash removal at your home, or commercial waste collection for your business, we're the company to trust for efficiency and quality customer service. We also offer some of the best prices you'll find among junk removal companies in Salt Lake City and the surrounding area. Contact us today to learn more, and to schedule the services you need!
As Salt Lake City's comprehensive trash removal company, Tiger Sanitation is available for:
Dumpster rentals
Junk pickup
Routine trash removal
Yard debris disposal
Storm cleanup
Construction debris removal
Scrap metal pickup
Appliance recycling
Commercial waste collection
Demolition services
And more!
Whether you need us for one-time yard debris disposal after a storm destroyed your landscaping or you want to schedule ongoing residential trash removal, we've got you covered. We take pride in being able to quickly and safely deal with all sorts of junk, garbage, and debris. We'll get your property clean soon.
Licensed, Bonded, & Insured for Junk Hauling & More
Tiger Sanitation is appropriately licensed, bonded, and insured for all of the services we offer, from dumpster rentals to construction debris removal and appliance recycling. We're trained to get rid of the items you don't want without causing any collateral damage to your property. We're familiar with all of the local codes and restrictions surrounding disposal of everything from downed tree limbs to mattresses and hazardous asbestos, and we'll follow those regulations to the letter. We make health and safety a priority.
Eight Years of Experience in Junk Removal Services
In our eight years in the junk haul industry, we've gained firsthand experience on how to efficiently clear out even large junk items and loads of garbage. We'll put our experience to work for you, offering residential or commercial waste collection that meets your needs 100%. Our experience makes us one of the most trusted junk removal companies in the region when it comes to speed, convenience, and safety.
Free Estimates & Same-Day Services Available
Tiger Sanitation is pleased to offer free estimates for all of our services, from junk pickup to demolition services. Call to tell us about your needs, and we'll be happy to give you an idea of what you can expect to pay. We're confident that we offer some of the lowest prices in town for everything from dumpster service to scrap metal pickup. We also provide some of the fastest turnarounds in Salt Lake City. Need same-day debris removal or emergency storm cleanup? We've got you covered. So what are you waiting for? Contact Tiger Sanitation now, and enjoy a cleaner and safer home or commercial space.
Tiger Sanitation strives to offer comprehensive trash removal services, but we do have a few restrictions on what we can pick up. We're only able to collect mattresses, tires, TV sets, and asbestos with prior notice. We can only take glass in bulk. We are not able to accept any hazardous materials aside from asbestos. We apologize for any inconvenience.