Are you planning an attic or basement cleanout? Are you moving offices, and need to get rid of old office furniture and other junk? Turn to Tiger Sanitation for junk hauling service you can trust. We offer junk pick-up throughout Salt Lake City and the surrounding area. Whether you need a single couch hauled away or you need junk removal services for a whole house or an office building with hundreds of individual units, we've got you covered. We take pride in being a fast, reliable, and affordable junk removal company. We've been in the industry since 2006, and we'll be able to haul away the junk you no longer want without causing any collateral damage to your property. Want to learn more about our junk hauling services? Call or e-mail us today!
We offer junk pick-up and disposal for a wide range of items, including:
Unwanted home or office furniture
Old appliances and electronics
Household garbage
Tires and automotive junk
Bagged yard debris
Construction debris
Mattresses
Asbestos
And more!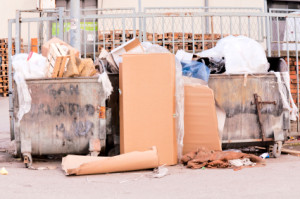 Let us know in advance if you need junk hauling to get rid of mattresses, TV sets, tires, or asbestos. For all other junk removal services, simply request our assistance and wave goodbye as your unwanted items drive off into the sunset. Hiring professionals to haul junk away can save you time and money, letting you clean out a property efficiently without having to worry about driving back and forth to the dump or local recycling centers on your own. Tiger Sanitation will dispose of everything properly, following all local regulations and restrictions. We'll get the job done right, so you don't have to stress about it.
Salt Lake City's Affordable Junk Removal Company
We're pleased to offer free estimates for all of our junk hauling services. Call us to haul away junk from your residential or commercial property, and enjoy knowing in advance just how much our expertise will cost you. We offer some of the lowest prices available for a junk haul in the local region. For those low rates, you'll get expert service fast—the same day you contact us, if possible. Tiger Sanitation will haul the junk away soon, so you can get on with your life. Contact us via phone or e-mail today to schedule your junk haul appointment!
We are unable to haul away hazardous materials aside from asbestos, and we can only accept glass in bulk. We apologize for any inconvenience.