In addition to getting rid of trash and junk from your property, Tiger Sanitation is available for professional debris removal. Do you need help getting your property looking its best again after a storm destroyed your landscaping? Have you been clearing away trees and brush to prepare for new construction? Do you need to remove debris after a construction or demolition project? We're the company to call. We're debris disposal experts, able to quickly and safely clear your residential or commercial property of that unwanted junk. Thanks to our eight years of experience in debris collection, we know how to properly dispose of everything from leaves and brush to concrete and asbestos. Contact us now for more information!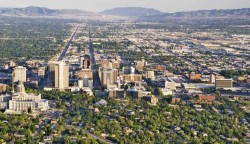 Tiger Sanitation is fully licensed, bonded, and insured for all of the debris removal services we offer. We take pride in offering same-day debris collection whenever possible, as well as some of the lowest prices for trash and debris removal you'll find in Salt Lake City. We also care about customer service, working around your schedule and making sure to carry out debris disposal safely and effectively. Make Tiger Sanitation your choice for debris pick up in Salt Lake City, and look forward to a great overall experience.
Yard Debris Disposal
If you've been clearing brush and other vegetation from your property, let Tiger Sanitation take care of yard debris disposal on your behalf. We'll clear away leaves, branches, and more. All you have to do is collect and bag it, and our lawn debris removal team will pick it up and dispose of it on your behalf. We'll save you the hassle of finding where to drop off yard debris and making all of those trips back and forth.
Storm Debris Pick Up
Did a major storm leave your property in shambles? Make storm cleanup easier by contacting Tiger Sanitation right away. As with our other lawn debris removal services, if you bag the items, we'll collect them promptly and get rid of them for you. Storm cleanup can be frustrating and stressful, but with our pros on your side, you can breathe a little bit easier.
Construction Debris Removal
In the case of construction and demolition projects, Tiger Sanitation is available for construction debris removal. We'll remove debris including scrap wood and metal, nails, concrete, dirt, drywall, and more, making sure that your property is safe from the dangers that can result from a messy construction site. We'll even get haul away asbestos, as long as you let us know in advance that this hazardous material will be part of the debris pick up.
Call or e-mail Tiger Sanitation today to schedule your trash and debris removal! We look forward to giving you the top-notch service you need and deserve.