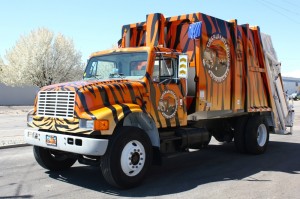 In addition to offering dumpster rental and trash collection for residential properties in Salt Lake City, Tiger Sanitation is pleased to provide commercial waste collection to local businesses. If you own a business that produces a lot of waste and you want to keep disposal as clean and hassle-free as possible, give us a call! We have a variety of waste collection services available, and we'll work hard to meet your specific needs. Whether you own an office building, a restaurant, or a hotel, we have commercial waste bins and collection services available to help you deal with your trash. Get a free cost estimate by contacting us today to tell us about your commercial waste management needs!
When you choose Tiger Sanitation for commercial waste disposal, you'll have an array of commercial waste bins to choose from. We have both front-load dumpsters and trash compactors available in a variety of sizes, depending on your business waste collection preferences and needs. We also offer several commercial waste collection scheduling options. We can pick up your garbage:
Twice daily
Daily
Weekly
Monthly
Or on another schedule that works for you!
You won't have to worry about overflowing dumpsters or foul odors driving your customers away when you work with Tiger Sanitation for commercial waste disposal. When you schedule waste collection services that are tailored to your company's garbage removal needs, you can breathe easy. On top of that, our dumpsters and other business waste collection units are clean and look professional. We'll help you put your business's best face forward.
In Commercial Waste Management Since 2006
Tiger Sanitation is one of the more experienced waste collection companies you'll find in Salt Lake City. We've been helping local businesses with commercial waste services for eight years, and we'll put our experience to work to ensure that you get exceptional customer service. We're also proud to be licensed, bonded, and insured for commercial waste removal. We'll give you prompt and reliable service at some of the lowest prices in town.
Learn more about the perks of choosing Tiger Sanitation for commercial waste recycling and disposal by contacting us today! We'll be happy to give you a free cost estimate. And don't forget that we also offer junk removal, debris disposal, and select demolition services. When it comes to keeping your commercial property looking great and ready to meet your customers' needs, Tiger Sanitation is the company to call.  
We apologize, but we are unable to offer commercial waste removal for meat markets or fisheries at this time.