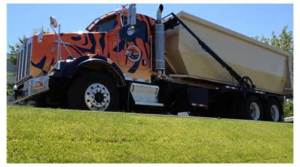 If you need to get rid of old appliances at your home or business, Tiger Sanitation is the company to call. We offer appliance recycling for all sorts of appliances, so whether you just upgraded your kitchen at home or you're moving to a new office space and need to get rid of outdated appliances before you relocate, you can count on our pros. We know what it takes to ensure successful appliance removal that doesn't damage your property. As a licensed, bonded, and insured appliance disposal company with eight years of experience in the industry, we're more than qualified to meet your needs. Contact Tiger Sanitation now to learn more, and to get a free cost estimate!
We offer appliance recycling for:
Refrigerators
Dishwashers
Ovens, stoves, and ranges
Washing machines
Dryers
Microwaves
And more!
Whether you need to recycle a refrigerator that is no longer doing its job or you have an outdated clothes dryer taking up space in your attic or basement, you can count on Tiger Sanitation for fast and safe appliances removal. We follow all of the rules and regulations related to appliance disposal in Salt Lake City and the surrounding area. We have the equipment and the knowledge to take care of those unwanted appliances faster and more conveniently than you could on your own. Save yourself the hassle and stress of dealing with junk appliance removal by calling Tiger Sanitation now.
Refrigerator Recycling Service
Refrigerator recycling is one of our specialized services. We offer fridge pick up at some of the lowest rates available in Salt Lake City, and our customer service is top notch. We'll take all of the necessary precautions to ensure safe refrigerator disposal. Don't throw your back out trying to get a heavy fridge to the local recycling center on your own—choose Tiger Sanitation for convenience and safety.
We're pleased to offer free cost estimates for all of our appliance removal services. Call to tell us about the help you need, and we'll give you an idea of how much it will cost to rent a dumpster or have our pros come out for appliance pick up. We are often available for same-day appliance pickup services. When you contact our experienced team, you'll be able to recycle a refrigerator or other unit promptly. Enjoy the free space in your home or business after letting us get rid of your junk appliances. Schedule your appliance pick up today!